Good fences make good neighbors. However, a new privacy screen can be the answer if it is insufficient. A standalone or integrated fixture known as an outdoor privacy screen or divider is used to block the view of your patio, porch, or balcony from your neighbors and onlookers. We have privacy screens perfect for your needs, whether you're lounging in the sun on your suburban deck or admiring the cityscape from your apartment balcony. Best feature? Our privacy screen selections are stylish and practical, allowing you to block prying eyes from your outdoor space without sacrificing appearance. Know the various types of privacy screens we offer and how you get benefitted from them.
PRIVACY SCREENS: TYPES
Do you plan to purchase a permanent privacy feature for your outside area? Or, are you looking for a seasonally appropriate quick repair that requires little work to install and remove? While there is no right or wrong choice, the optimal kind and materials depend on how long you intend to use your screen.
You can get a variety of materials to choose from. Roller shades or balcony screens are suitable for short-term usage, whereas privacy screens made of metal, wood, or the design of a planter are best for long-term types.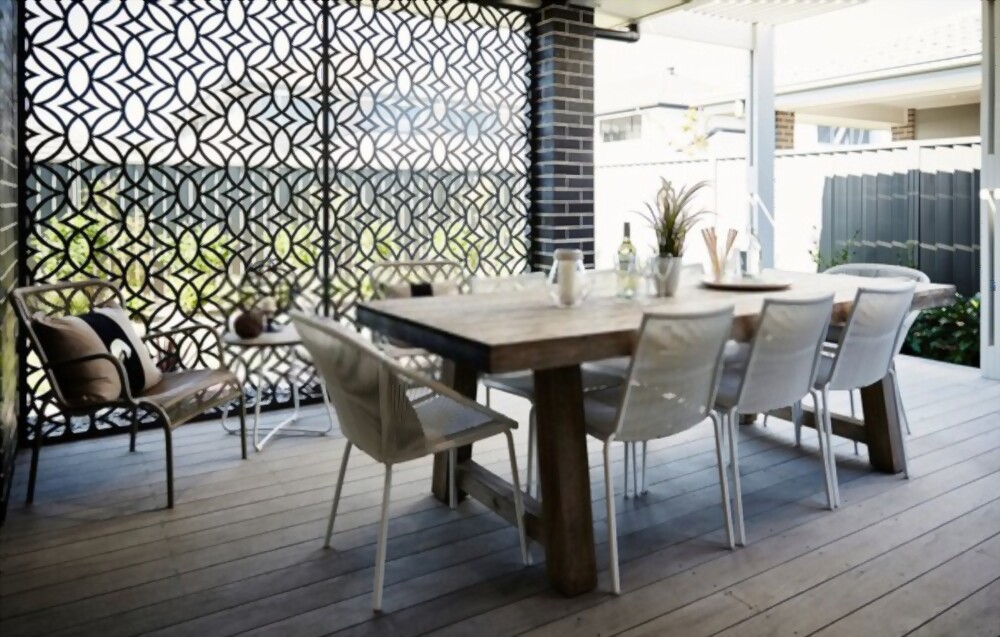 IDEAS FOR OUTDOOR PRIVACY SCREENS:
1.  MOST EFFECTIVE METAL OUTDOOR PRIVACY SCREEN:
This laser-cut metal screen is an attractive way to blend into the background. The sturdy, galvanized steel construction of the free-standing Verkade Screen Series Metal Privacy Screen softly filters out direct sunshine, ugly buildings, and most importantly neighbor's prying eyes. You can create your wall of comfort by lining up two, three, or more of the screens with geometric patterns end to end.
2.   BEST PORTABLE OUTDOOR PRIVACY SCREEN:
The Galaxy Outdoor and Indoor Room Divider by Prom is our choice for the most aesthetically beautiful portable room divider since it can be moved around the yard and changed in any direction, whether you want to catch some sun or shade. The enormous screens are encased in double-hinged metal tubes and constructed of lightweight, water-resistant fabric.
3.  BEST PLANT-GROWING OUTDOOR PRIVACY SCREEN:
Your attractive vertical garden and privacy are both provided by the strong Artistry Fusion Planter Cedar Privacy Screen. This unique feature not only improves seclusion but also mixes in with the surroundings and the natural appearance of the screen. It is solid and well-made of exterior-grade cedar, and the two wooden planter boxes at the base allow you to increase the amount of greenery in your yard. The screen is self-standing when placed on a flat surface, and the boxes are weighted down with potting soil.
4.  TIME FOR THE CURTAIN:
Curtains with excellent fabric materials are also used as a privacy screen. Drape on the inside of a balcony or fastened to the side of a pergola, curtains, a sheet, or a small blanket will work as a privacy screen for a backyard.
5.  PLANTS SUCH AS SHRUBS, TREES, AND VINES CAN ACT AS LIVING PRIVACY FENCES:
These plants can be trained to climb and cover a plain or ugly wall or fence, or they can stand on their own, like densely planted trees and shrubs. Hedges that are formally clipped and trimmed in rectilinear fashion are not your only option, despite being traditional and continually in demand. Consider setting up rows of towering cacti or other tall, wide-growing plants.
CONCLUSIONS
The savviest homeowners are constantly searching for their next Do It Yourself home repair project.  Who doesn't love outdoor privacy, after all? Outdoor privacy screens don't have to cost a lot of money. You can either buy a screen or the materials to make it your choice.