Introduction
Do you ever walk into your kitchen and feel like you've been transported back in time? Maybe your kitchen cabinets are straight out of the '70s, or your countertops scream 1990s chic. If you're tired of living in the past, it's time for a kitchen makeover. But how do you transform your old kitchen designs into modern masterpieces without breaking the bank? In this article, we'll explore surprising ways to make your old kitchen designs look modern, from updating your cabinets and lighting to adding open shelving and a kitchen island. Let's dive in!
Update Your Kitchen Cabinets
One of the most significant ways to modernize an old kitchen design is by updating your kitchen cabinets. If your cabinets are in good condition but look dated, consider painting or refinishing them in a contemporary color like white, gray, or navy blue. For a more dramatic change, replace the cabinet doors with sleek, flat-panel designs, or remove the doors altogether for an open, airy look. Don't forget to update the hardware – modern pulls and knobs can have a significant impact on the overall appearance of your kitchen.
Replace Old Countertops
Outdated countertops can make your entire kitchen look dated. Swap out old laminate or tile countertops for modern options like quartz, granite, or butcher block. Not only do these materials look more contemporary, but they also offer improved durability and functionality. If you're on a budget, consider using a countertop resurfacing kit to give your existing countertops a fresh, modern appearance.
Install a Modern Kitchen Backsplash
A kitchen backsplash is a perfect opportunity to add a touch of modern flair to your kitchen design. Replace dated tile or wallpaper with a sleek, contemporary material like glass, stainless steel, or marble. Or, if you're feeling adventurous, consider a bold, geometric pattern or a pop of color to make a statement.
Upgrade Your Kitchen Lighting
Good lighting can make or break a kitchen design, and outdated fixtures can instantly date a space. Replace old, fluorescent lights with modern, energy-efficient LED options. Consider adding under-cabinet lighting to illuminate your countertops and make your kitchen feel more spacious. Pendant lights over a kitchen island or a statement chandelier can also add a touch of modern elegance to your space.
Swap Outdated Appliances for Sleek, Modern Options
Old, mismatched appliances can make your kitchen look cluttered and disorganized. Upgrade to sleek, modern appliances in stainless steel or matte black for a cohesive, contemporary look. Look for energy-efficient models to save on your energy bills and reduce your carbon footprint.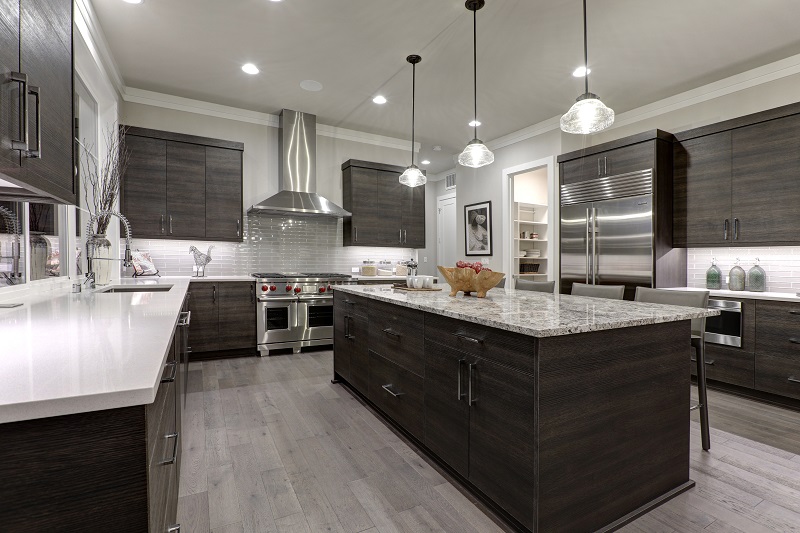 Incorporate Open Shelving
Open shelving is a popular trend in modern kitchen designs. Replace upper cabinets with open shelves to create a more open, airy feel in your kitchen. This also provides an opportunity to display your favorite dishes, glassware, and decorative items, adding personality to your space.
Add a Kitchen Island
A kitchen island can serve as a focal point in your modern kitchen design, providing additional counter space, storage, and seating. Choose a sleek, minimalist design with clean lines and a waterfall countertop for a contemporary look. If you're short on space, consider a small, portable island that can be moved as needed.
Consider a Color Change
A fresh coat of paint can do wonders for modernizing an old kitchen design. Choose neutral shades like white, gray, or beige for a clean, contemporary look. Or, if you want to make a bold statement, consider an accent wall in a vibrant color like teal or mustard yellow.
Mix and Match Materials
Modern kitchen designs often feature a mix of materials, adding visual interest and depth to the space. Combine different countertop materials, like quartz and butcher block, or mix various cabinet finishes, such as painted and natural wood. This can create a unique, custom look that sets your kitchen apart from the rest.
Embrace Minimalism
Finally, embrace the minimalist design principles that define many modern kitchen designs. Declutter your countertops, pare down your décor, and choose simple, streamlined furnishings and accessories. This will create a clean, uncluttered space that feels fresh and contemporary.
Conclusion
Modernizing your old kitchen design doesn't have to be a daunting task. By updating your cabinets, countertops, backsplash, lighting, and appliances, you can create a fresh, contemporary space that you'll love spending time in. Incorporate open shelving, a kitchen island, and a mix of materials for added visual interest. And don't forget to embrace minimalism for a clean, uncluttered look. With these tips, you'll be well on your way to transforming your outdated kitchen into a modern masterpiece.